Caring for your Fairy House
The materials used to build our fairy houses are all natural, gathered from the enchanted forest. We take great care in making sure all materials are solid and free of unwanted tenancy.
Our fairy houses are sturdy but also very delicate. We recommend you place your fairy house indoors away from the sun. Keep out of reach of small children. There are many small pieces that are easily dislodged by a child. Children of ten years or older should be instructed to play with them as they would a dollhouse.
Keeping your fairy house clean is easy. Simply use a feather duster and lightly dust. You can also use compressed air but take care not to get too close.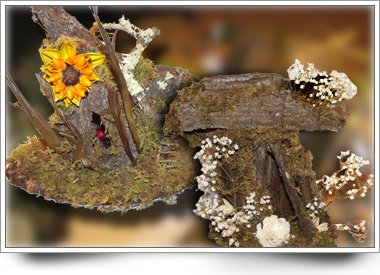 Placement of your Fairy House
Wherever you place your fairy house becomes a magical place. So, make sure to place it in a location that will be suitable for children to use their imagination.
Decorate your fairy house for the holidays by adding your own special touches. Your fairy house can be ever changing with each holiday. You can even play games with your children by leaving gifts for the fairies and they will leave one in return.
Remember, each fairy house is a one-of-a-kind dwelling and is a home for your visiting fairies. They will appreciate you keeping it welcome for them.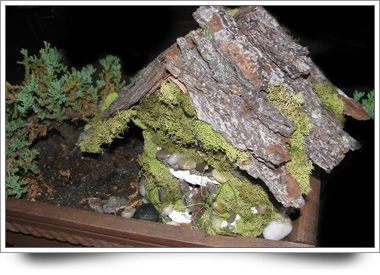 Below are some fairy house ideas and tips on how to display your fairy house. I'm sure you can come up with a few of your own. Please send me your pictures of your fairy house displays! With your permission, I'll put them on this page.